September 19, 2017
It's Good to Have Friends
To start, can we all please take the time to acknowledge how great this piece is: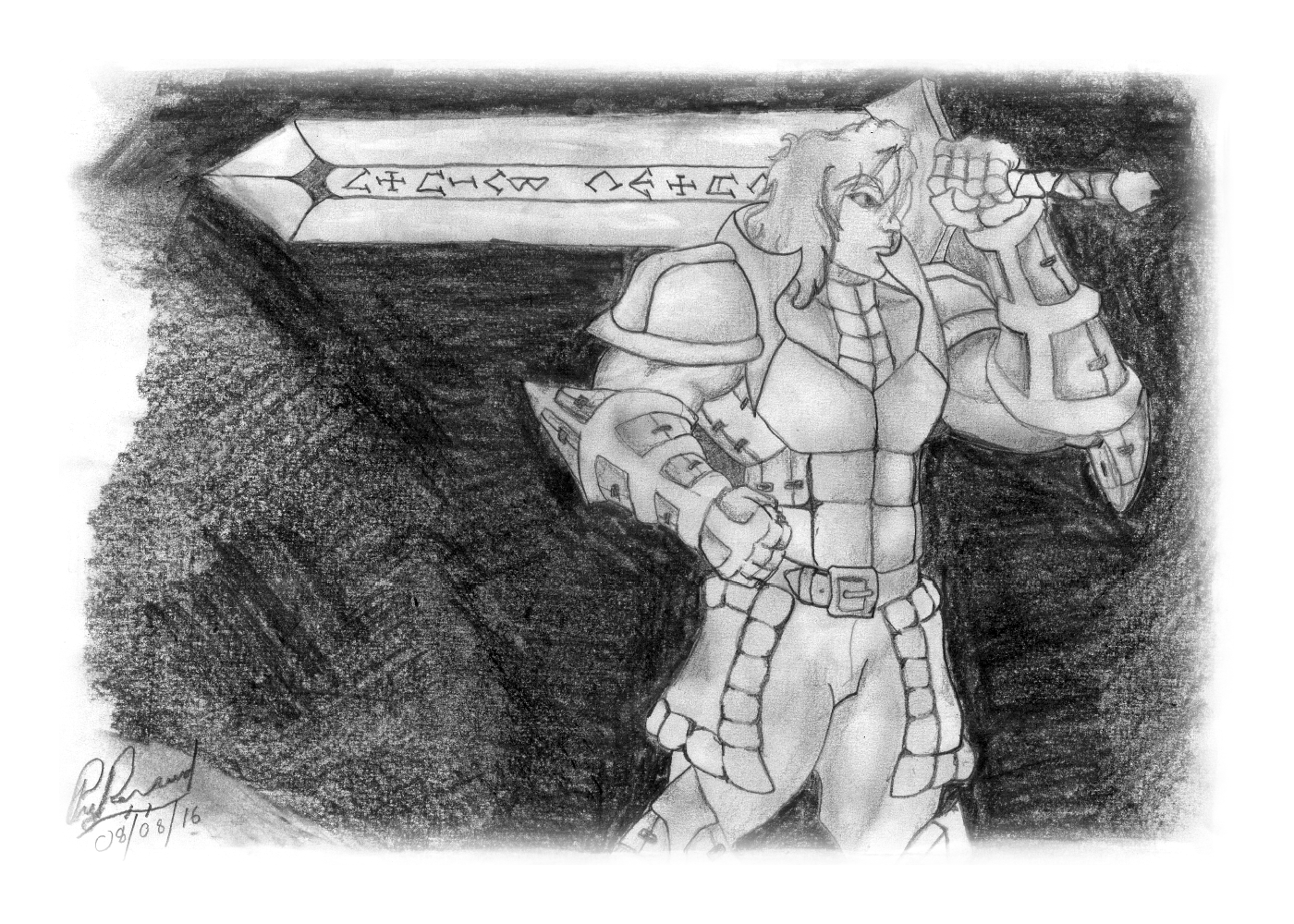 This is an image of Nixon of the Great Fire and Ash, one of the main characters of my upcoming epic science-fantasy Catching Hell Pt. 1. It was created by a very good friend of mine, Patrick Yokan Persaud, and as you likely saw, a version of it graces this site as the background (at least at the moment). Patrick and I have been very good friends since grade 7, and he has been a partner of mine for untold numbers of gaming nights, CCG battles, and anime binges. In short, he gets me.
When I asked him to create this image for my website, I gave him the general parameters of the character, and then just let him have at it. I love the results. It captures the outlandish and intense nature of a larger than life creature, with the vibe of the over-the-top 90s anime that inspired him and the story he inhabits.
Pat has always been more talented than me. On top of being a natural artist, he's also an incredibly talented author in his own right, and I hope you get to see the fruits of his writing labour soon. When I needed an image to launch my site, there was only one name on my list, and I was not disappointed.
Patrick isn't a widely-published author, and what works he has done are behind the scenes, or are inspirational like this image of Nixon. From this, I was able to find even more motivation to get myself out there, get my website posted (read: ask my wife really nicely to work on it), and be the writer I want to be. When I re-read Nixon's Scottish brogue dialogue as I edit Catching Hell Pt. 2, it's the image my friend created for me that I see speaking. For Hollywood casting, I'm open to suggestions. Imposing Scottish ginger actors: GO!
Some days I don't want to talk writing. Scratch that… most days I don't. Those are the days for true friends. Friends who don't care about what you're working on, or your publishing woes, or your editing headaches, or what font you're using (besides, as you can see my obsession with Courier New will never end). Those days are just as key and influential as the ones where you're neck deep in the social awkwardness of writing conferences and editing phone calls. I don't shout out to those friends because they know who they are, and they know what they do for me. On the flip-side of that, I have author friends, old and new, who I love speaking to and being around. I love sharing their successes or helping them through difficult times. Or, just talking shop!
A friend doesn't have to be a direct influence on my work or yours. Maybe they're a welcome distraction from it. A needed escape from your own brain. I was lucky enough to have an old friend who could give a face to a voice in my head, but I have other friends who are just as influential and inspire me in other places, and I'm damn sure that comes out in the work I produce. It's not important that you surround yourself with talented people; it's that you surround yourself with good ones. It's up to you to provide the talent.
September 12, 2017
Short-Term Success
Hey, my first blog post! No more diving into the depths of Facebook to get these out! Look at how astonishingly progressive I am!
On February 29th, 2016, I decided to stop sitting on my long-gestating, 4 years to write epic fantasy manuscript 'Catching Hell' (still the most clever name I've ever had) and do something about it. I went back to school. I learned how to pitch to publishers. I edited like a beast! Less than a year later I had a book deal.
Then my deal fell apart. The economy is tough on everyone I guess.
But, BUT, then I had another one. A strong one with Double Dragon E-books. I'm not picky about format, and they have proven success, so I jumped on it. Catching Hell Part 1, coming March 2018!
Somewhere in there I wrote another, considerably shorter book. A much different story, Death Dresses Poorly. From concept and the first keyboard strokes to a publishing deal with Fluky Fiction was a whopping 8 months.
All this self-congratulatory BS isn't to make you feel bad, but instead to hopefully help you realize that it only takes one. One email. One meeting. One moment to decide a dream is worth chasing. One extra schlocky motivational poster quote!
I'm here to say hi, but also to continue sharing my story. Death Dresses Poorly comes out in the next few months, from my brain to your hands, and then Catching Hell follows, all because my thumbs we're tired of being sat on. I hope you follow along and enjoy the struggles of a newb in the writing world.
Thanks for riding with me!