February 2nd, 2018
Greetings and happy Groundhog Day, everybody! I hope the new year has been great to everyone so far. Clearly I've been busy, but that's life in the fast lane.
So it's been almost two months of 'Death Dresses Poorly' being available to the world, and if one factors in free giveaways, I'm at around 100 copies out there in the wild. They say the first thousand is the major hurdle, and I'm a 10th of the way there. That's AMAZING!!! Jeez, 100 copies floating around in the world? Craziness. I can't tell you how great that makes me feel. Not even two years into this journey and I've made it that far. It doesn't seem real.
I admit I'm at a bit of a lull, writing-wise. I have things to work on, but I'm still contributing to my friends at Hardmode Games, who have a secret project I'm proudly a part of. Good people I've known forever who deserve good things. I can't complain about my own lack of writing if what I am doing is contributing to the quality of life of others.
'Catching Hell Pt. 1' comes out next month, or so I'm told because this publisher is much more secretive than DDP's. It's weird, because I never considered all of the different techniques publishers employ to get work out there. That's going to be a huge moment for me, because CH is what started this odyssey years ago, when I put words on a page and suddenly years had passed. I credit my wife with constantly reminding me that "Hey, I wrote a book! Who does that?" and that it wasn't an accomplishment that should be disregarded so easily. With CH, the world will finally be introduces into the world of Ryuujin, the magnum opus that will be my life until I'm dead. You'll finally get to meet Nixon Ashe, the face that graces the home page of this website, and his so-hard-to-write Scottish brogue.
I'm jittery, I'm excited, and I'm still riding the high of DDP and all that comes with it. I've happily got myself a publicist from Creative Edge to help me out, and suddenly I'm awash in interviews and opportunities.
All this ego stroking has a point, I swear: it's out there. It's out there for you to grab, because when it hits, it can hit hard and fast. Even with no time, the effort you put in when you can will pay off. It will, I swear! Maybe not in a rush like me, but it will. Never let there be a doubt in your head, because doubt brings you down. This is where I wanted to be, so this is where I'm supposed to be. Period.
I may be the anti-author, but I don't doubt for a second that I deserve to be here, and neither should you when you make it.
December 5th, 2017
One Week…
Next Tuesday Death Dresses Poorly is released into the world. A thing I did will be out there. Writing contests will be entered. Handshakes will presumably be given. Maybe a small get-together before the ball of 2018 and Marc's writing really gets rolling.
Now, I am enormously proud of myself, which isn't something I admit easily. Pride is not something I have a lot of in the things I do. I'm proud of the things my wife or kids, friends or family do. Not myself. Call it unwarranted self-pity if you want. I wouldn't argue. I'm excited for this in ways you couldn't believe. I really am! But pride is a hard thing for me to muster about myself.
…But…there's always a but…I'm kinda' lost here. How should I be feeling? Because I'm gonna bet it's not like this. I won't say it's malaise, since that would imply I don't care, and I do. Greatly. I want this to be successful, for me and for everyone who's put an ounce of work into it with me.
Is it cockiness? That's possible. Ever since I decided to make a go of writing, this was the logical outcome: my work in your hands. The thing is, anything less than that would have been seen as a failure in my eyes. I'd be happy friends and family could see what I did, but not you, and you are the real goal. My stories in your head. I know my stories are good enough to get there, so yeah, I have a book coming out. Duh. Where else was it supposed to go?
Mostly I just think it's a culmination of so much happening in my life, and my long-since having lost the youthful energy required to really, truly embrace this moment. A hazard of being fresh at near-40 I suppose.
In the end I think it's just my usual, casual, logical self. This was the end goal, and it's not even a goal! It's not the end of a marathon; it's just me making to the starting line! Now the real work begins. Writing more. Marketing. Blood, sweat, and tears. That's what really fires up my motor, and that's what I'm tentative about: the real work is just beginning, and I've never done this before so who knows what's going to happen.
Death Dresses Poorly is special to me. It's the most original thing I've ever written, and you'll never know it because for many of you it'll be the first thing of mine you've ever read!
December 12th. On Amazon, and soon in good Canadian Prairie and southern Maine booksellers everywhere. Come witness a man have a panic attack realizing a childhood dream! Marvel at his ability to act like everything is ok and he's not scared to death! Come watch a man just warming up…
October 17th, 2017
The Anti-Author
Yesterday I received my standard monthly email from the Writer's Guild of Alberta, an organization I am a member of, but have never fully embraced in regards to being an active member. The truth is that I joined originally because membership was required to attend the Calgary literary festival 'When Words Collide', and I've just kept it going believing that at some point it may come in handy. And yesterday, it did.
It was calling for submissions for various literary awards, and how submissions needed to be in before the end of the year. I just so happen to have a book coming out in that time. A book that matches their criteria. A book that I feel is better than I may give it credit for some days.
Then it hit me: I could submit to that. So I looked into it more, and there's a list of awards and prizes I can submit too, strictly because I'm A: Canadian, B: Albertan, and C: Calgarian. Holy crap, I could send my work in to be prodded and judged! Hot damn! Will I win? Who cares! No really… who does? Do I even care?
I almost market myself as an Anti-Author. I'm not against being an author, per-se, however I am absolutely not a prototypical one at all. I don't force myself to write every day. I don't read voraciously and join book clubs of any sort. I don't actively seek out others in my field, because I don't even consider it 'my field'. As I previously said, even my WGA membership is more of a place-holder for the possibility of bigger things, even though I know it's a great organization with bottomless writer resources and connections.
As of writing this, I'm a week away from my 38th birthday. I am not at a point in my life where I can drop everything and pursue this full-time, and I doubt I ever will be. Writing has to be second place to a million other sometimes boring but no less important things. I am not a writer trapped in a day job looking for his break. I am a working man, who also writes.
I say dumb things like this, as if schluffing  off a gift I've been given (I'm not, because it's not a gift) but then I do things like hire a Publicist (details pending) and start planning next year's Alberta / Prairies convention schedule. Who's fooling whom, here? Am I a guy feigning being an author just so people will indulge my desire to have you read my words? Or am I a writer convincing himself that I'm not a writer just to shield myself from the heartbreak. Both? Like my writing will always tell you, the world is infinite shades of grey. Gray? Graey? What country am I in again? Who's my target demographic?
I'm going to enter the contests and awards, and I'm going to convince myself that I don't care. Because I don't. I'm Marc Watson: The Anti-Author. Right?
September 19, 2017
It's Good to Have Friends
To start, can we all please take the time to acknowledge how great this piece is: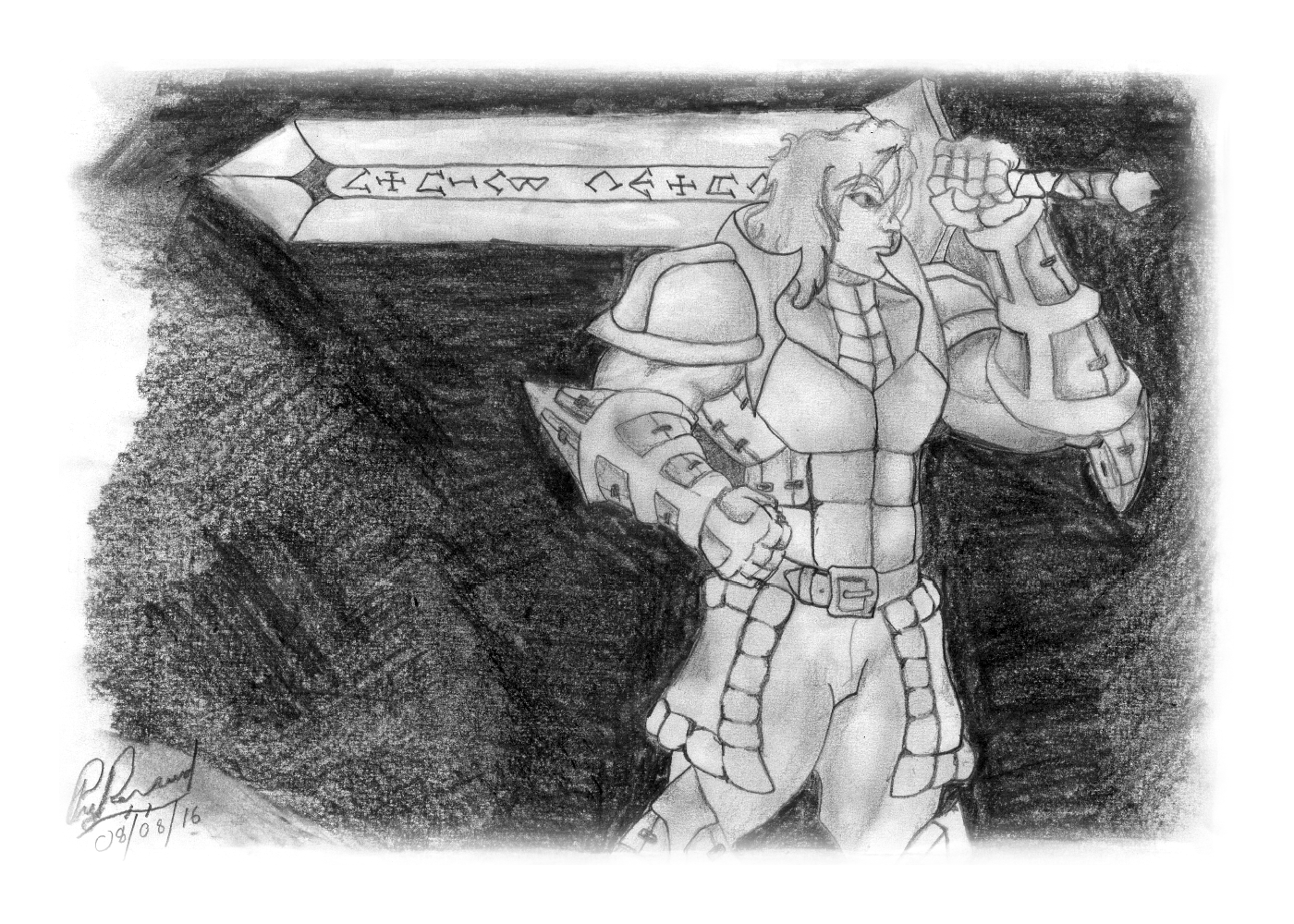 This is an image of Nixon of the Great Fire and Ash, one of the main characters of my upcoming epic science-fantasy Catching Hell Pt. 1. It was created by a very good friend of mine, Patrick Yokan Persaud, and as you likely saw, a version of it graces this site as the background (at least at the moment). Patrick and I have been very good friends since grade 7, and he has been a partner of mine for untold numbers of gaming nights, CCG battles, and anime binges. In short, he gets me.
When I asked him to create this image for my website, I gave him the general parameters of the character, and then just let him have at it. I love the results. It captures the outlandish and intense nature of a larger than life creature, with the vibe of the over-the-top 90s anime that inspired him and the story he inhabits.
Pat has always been more talented than me. On top of being a natural artist, he's also an incredibly talented author in his own right, and I hope you get to see the fruits of his writing labour soon. When I needed an image to launch my site, there was only one name on my list, and I was not disappointed.
Patrick isn't a widely-published author, and what works he has done are behind the scenes, or are inspirational like this image of Nixon. From this, I was able to find even more motivation to get myself out there, get my website posted (read: ask my wife really nicely to work on it), and be the writer I want to be. When I re-read Nixon's Scottish brogue dialogue as I edit Catching Hell Pt. 2, it's the image my friend created for me that I see speaking. For Hollywood casting, I'm open to suggestions. Imposing Scottish ginger actors: GO!
Some days I don't want to talk writing. Scratch that… most days I don't. Those are the days for true friends. Friends who don't care about what you're working on, or your publishing woes, or your editing headaches, or what font you're using (besides, as you can see my obsession with Courier New will never end). Those days are just as key and influential as the ones where you're neck deep in the social awkwardness of writing conferences and editing phone calls. I don't shout out to those friends because they know who they are, and they know what they do for me. On the flip-side of that, I have author friends, old and new, who I love speaking to and being around. I love sharing their successes or helping them through difficult times. Or, just talking shop!
A friend doesn't have to be a direct influence on my work or yours. Maybe they're a welcome distraction from it. A needed escape from your own brain. I was lucky enough to have an old friend who could give a face to a voice in my head, but I have other friends who are just as influential and inspire me in other places, and I'm damn sure that comes out in the work I produce. It's not important that you surround yourself with talented people; it's that you surround yourself with good ones. It's up to you to provide the talent.
September 12, 2017
Short-Term Success
Hey, my first blog post! No more diving into the depths of Facebook to get these out! Look at how astonishingly progressive I am!
On February 29th, 2016, I decided to stop sitting on my long-gestating, 4 years to write epic fantasy manuscript 'Catching Hell' (still the most clever name I've ever had) and do something about it. I went back to school. I learned how to pitch to publishers. I edited like a beast! Less than a year later I had a book deal.
Then my deal fell apart. The economy is tough on everyone I guess.
But, BUT, then I had another one. A strong one with Double Dragon E-books. I'm not picky about format, and they have proven success, so I jumped on it. Catching Hell Part 1, coming March 2018!
Somewhere in there I wrote another, considerably shorter book. A much different story, Death Dresses Poorly. From concept and the first keyboard strokes to a publishing deal with Fluky Fiction was a whopping 8 months.
All this self-congratulatory BS isn't to make you feel bad, but instead to hopefully help you realize that it only takes one. One email. One meeting. One moment to decide a dream is worth chasing. One extra schlocky motivational poster quote!
I'm here to say hi, but also to continue sharing my story. Death Dresses Poorly comes out in the next few months, from my brain to your hands, and then Catching Hell follows, all because my thumbs we're tired of being sat on. I hope you follow along and enjoy the struggles of a newb in the writing world.
Thanks for riding with me!